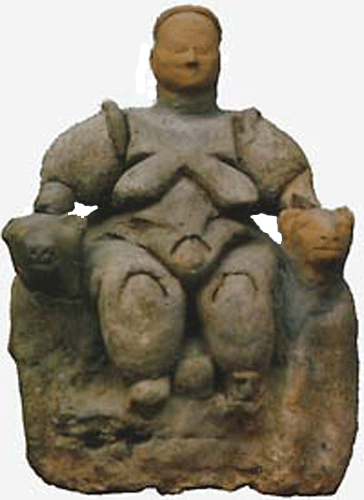 CLICK IMAGE TO DIG DEEPER. CLICK LOGO TO GET HOME.

Grainbin Goddess Catal Hoyuk, Turkey.



Excavating one of the earliest cities, 9000-year-old Catal Hoyuk on the Konya Plain of Turkey
The site continues to fascinate and startle. Here are varied figurines discovered there over the decades since archaeologist James Mellaart walked the hills/mounds on Turkey's Konya Plain that gave the site its name. In English, the site name means forked hill. In Turkish, the site is, Catal Hoyuk. Here is our story of Catal Hoyuk, Turkey, from its disovery, to its most significant recent finds.
Another Goddess
Catal Hoyuk, Turkey
What does your intuition tell you? Did the figurines shown here depict a goddess, or goddesses, to the people of the time during which they were made?



Another StudioinaStudio site.