Into Eden Epic Prehistoric Saga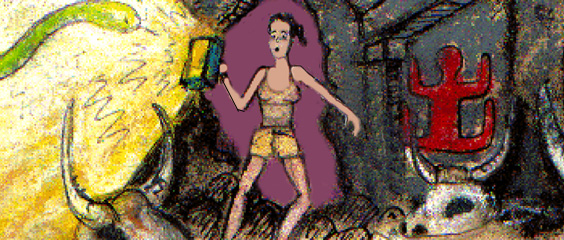 20th and 21st Century artist, Dean Adams Curtis, envisions a saga on storyboards for upcoming motion picture.

Her Story Matriarch's Secrets
Joanne lounged with feetsies up. She had just gotten word from her doctor that she was pregnant. It was her first pregnancy. She briefly saddened at the thought that she could not call her mother, Lois, and tell her the news, as she had died when Joanne was sixteen. Instead, Joanne dialed her twin sister, Janet, who lived down in the little college town of Yellow Springs, near Dayton, Ohio.

Joanne relaxes with her feetsies up.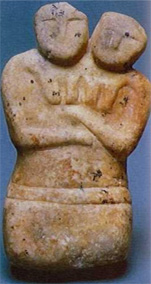 These Twins Go Way, Way Back
We're talking 9000 years back. These ladies were found at what has been one of the most exciting archaeological sites on the planet. Yes, its the famous Catal Huyuck site in the middle of Turkey often explored by goddesses.com. Beyond this site near Konya, Turkey, twins have fascinated folks for many thousands of years.
Demeter Does Earthquakes
Demeter was the Greek's Mother Earth goddess. So its appropriate that now Demeter does perpetual polar passes, orbiting the Earth and observing her plates. As you know, the crust of Earth is a shattered collection of large plates. These plates are banging into each other, being pushed under one another, and generally moving around.
Spring of the Gazelles
Imagine a place that was continuously lived-in for over two thousand years! At this 8000 year old Jordanian site, "The female form is cast in an elaborate geometric framework," notes archaeologist Denise Schmandt-Besserat from the University of Texas. "The image is built around a vertical axis beginning between the breasts and continuing along the thighs. Shoulders, arms, breasts, fatty rolls, thighs and knees are symmetrically arranged around this central line, but the womb bursts out in the center, at the focal point of the figurine.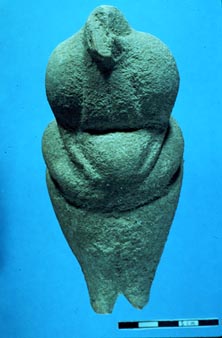 Another StudioinaStudio site.