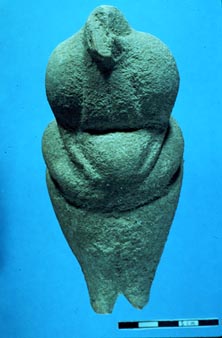 Spring of the Gazelles
In Jordan, starting at an 8000 year old horizon that was continuously lived in, evidently in peace, for over two thousand years!

Here the female form is cast in an elaborate geometric framework around a vertical axis beginning between the breasts and continuing along the thighs, but the womb bursts out in the center, at the focal point of the figurine.
These Twins Go Way, Way Back
9000 years ago. These ladies were found at what has been one of the most exciting archaeological sites on the planet. Yes, they were found at the famous Catal Huyuck site in the middle of Turkey.